IT'S THE SHIP 2023 QUACK Friday Sale
18+
04:30pm, Wed 8th Mar 2023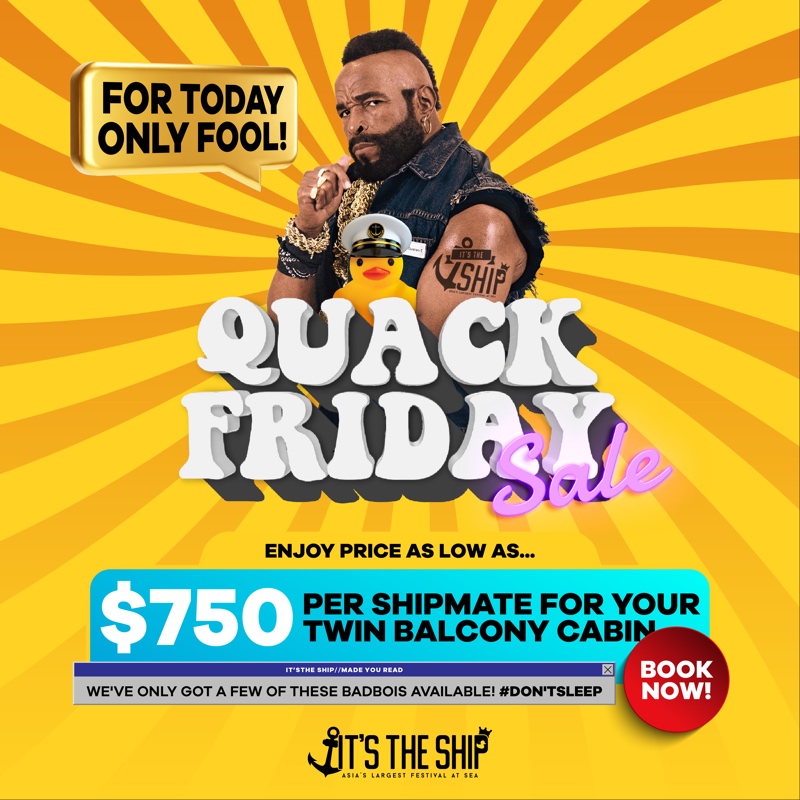 Venue Details
Marina Bay Cruise Centre Singapore
61 Marina Coastal Drive
Singapore, Singapore, 018947
IT'S THE SHIP 2023 QUACK Friday Sale
18+
04:30pm, Wed 8th Mar 2023
WE'RE BACK BABY!
IT'S THE SHIP, Asia's Largest Festival at Sea returns in 2023 to the Lion City, Singapore! 
Setting sail on the 8th - 10th of March on our home, The Genting Dream Cruise Liner, an "integrated resort" at Sea with only the best of the best luxurious comforts (trust us, the Ship is some A class fancy ass stuff). 
Your cabin is your ticket to a jam-packed 3-day, 2-night festival experience like no other as we sail the open waters and lose yourself in the music, theme parties, and side activities onboard! For those foodies out there, our cruise boasts a plethora of world-class restaurant options to keep you fueled throughout your trip. So lock in those dates shipmates! 
We're so excited to welcome returning shipmates and new shipmates onboard this year.
QUACK Friday Sale - for One Day Only!
Ticket Type: Balcony (Twin-Sharing)
Ticket Price: USD $1,500 per cabin all-inclusive
- Promotional cabins are strictly non-transferable and non-refundable.
- Purchasers are required to provide the lead and second passenger details by 5th January 2023. 
- There will be an administration fee of USD300 for submission of details after 6th January 2023.
- No changes of any kind are allowed from 6th February 2023 onwards.
FAQ: https://itstheship.com/faq/
T&C: https://itstheship.com/tc/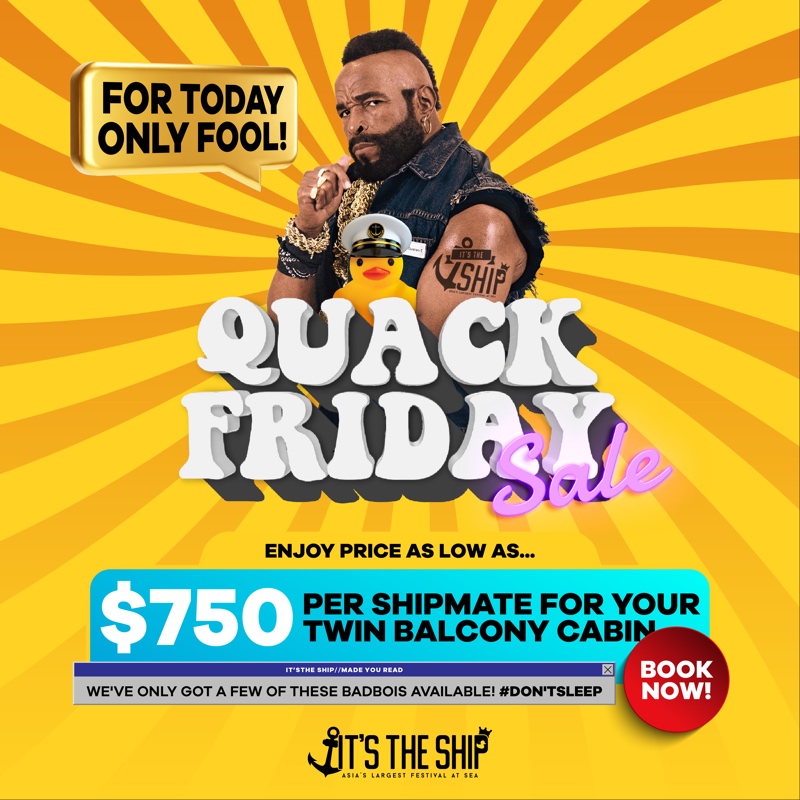 Venue Details
Marina Bay Cruise Centre Singapore
61 Marina Coastal Drive
Singapore, Singapore, 018947